October 23, 2015
Online Training in CAMS for Suicidality Wins Empathos a Gold Award for Excellence in Learning and Development 
eLearning in CAMS for assessing, managing and treating suicidality garners recognition from Brandon Hall Group, a global business learning and talent management leader
Sheboygan, Wis.—Oct. 23, 2015—Empathos Resources, a technology-based training and certification solutions provider specializing in suicide risk management and mitigation, is pleased to announce its win in Brandon Hall Group HCM Excellence in Learning Awards. Now in its 21st year, Awards Program is among the most prestigious in global human capital management, and attracted entrants from leading corporations around the world.
Empathos wa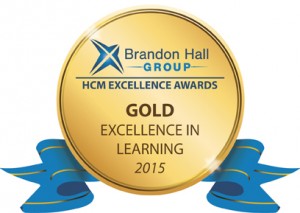 s chosen as Gold, in the category of 2015 Winners in Learning & Development, Best Use of Video, for its eLearning in CAMS, the Collaborative Assessment and Management of Suicidality. Joining Empathos in this recognition is Expertus and its award-winning cloud-based learning management system (LMS).
The self-paced online training, "Managing Suicide Risk Collaboratively: The CAMS Framework," was launched in February 2015 and is already being used by thousands of clinicians in the U.S., Canada, and overseas in Europe, Australia and Asia to improve their skills in suicide risk assessment, management and treatment.
The CAMS Framework was developed by David A. Jobes, Ph.D., ABPP, and is one of just a handful of evidence-based clinical interventions that effectively reduces suicidal risk over the course of clinical treatment. The CAMS eLearning course from Empathos is designed for behavioral health clinicians across theoretical orientations and disciplines to improve their skills in better assessing, managing and treating suicidality in their at-risk patients.
This award-winning Empathos video-based training met judging criteria that included measureable benefits and outcomes, effective alignment to learning needs, appropriateness for target fields and situational considerations, and demonstration of positive impact on users and the organizations in which they professionally practice.
Post-training results to date show that 81.2% of clinicians completing the Empathos online training in CAMS plan to make changes in their clinical approach with suicidal patients after having completed this training. Moreover, the video-based, highly interactive training has shown significant and demonstrable knowledge gain among learners in the essentials of ethical clinical care and risk management related to suicidal risk by adeptly applying the empirically supported CAMS Framework with fidelity.
"Our online training in CAMS employs proven instructional design theory, cutting-edge technology and vibrant visuals to make the training as memorable as it is effective," said Empathos President Denise Pazur. "That impact is already being demonstrated in better learning outcomes among our CAMS eLearners versus those who have taken a lecture-based training in CAMS."
CAMS Developer Dr. David Jobes agreed.
"I am proud of what we've created together, and we are seeing the power of this course to enhance clinicians' ability to help save lives," said CAMS developer Dr. Jobes, Professor of Psychology at The Catholic University of America and world-renowned suicidologist. "Participants in CAMS role-play training are much better prepared for this training experience after completing the Empathos e-learning course, noticeably better than when we did didactic training in CAMS. Feedback I hear about the course—from around the world—is extremely positive. It gives me great hope about increasing the prospect of saving more lives through evidence-based clinical care."
About Empathos
Empathos Resources is a privately held Wisconsin-based limited liability corporation specializing in technology-enabled learning, training, education and certification services in suicide risk management and care for professionals and the systems, states, tribes and enterprises in which they practice. Empathos has off-the-shelf and customization capabilities that allow the company to offer best-in-class training solutions for professionals in diverse practice settings. Learn more about the online training in CAMS at www.empathosresources.com/now-available or contact Empathos at info@empathosresources.com or 920-457-4033.
About Dr. David Jobes and CAMS
As an internationally recognized and award-winning suicidologist, David A. Jobes, Ph.D., ABPP is Professor of Psychology and Associate Director of Clinical Training at The Catholic University of America in Washington DC. He is also the senior partner of the Washington Psychological Center, a group mental health practice in Washington DC. Dr. Jobes is the developer of CAMS, an evidence-based therapeutic framework that has been extensively studied in a range of outpatient and inpatient clinical settings. CAMS is designed to create a strong clinical alliance and increase a suicidal patient's motivation for treatment. Supported by more than 25 years of "real-world" clinical research in a spectrum of clinical settings, CAMS has been shown to be an effective approach for assessing and treating suicidal risk. Use of CAMS ensures competent clinical care with the potential of decreasing the risk of malpractice liability through evidence-based practice and thoughtful clinical documentation. As one of the most extensively studied suicide-specific interventions in the field, CAMS has been implemented around the world; its sourcebook and related materials have been translated into several foreign languages. 
About Expertus
Expertus delivers next-gen, cloud-based learning management system technology that represents a whole new way of thinking about learning. Based in Silicon Valley, Expertus serves customers from offices in the US, Europe and Asia, and provides a full range of LMS delivery and support services to ensure smooth transitions from legacy systems, rapid technology deployment and sustained learning success. The company's flagship product, ExpertusONE, is an enterprise-class; cloud LMS that learners, admins and executives love. Built with simplicity of use in mind, only ExpertusONE leverages the heuristic design principles developed by today's most popular websites − Google, Facebook and Amazon − resulting in: a user interface that's incredibly easy to use; next-gen architecture that's exceptionally simple to run; and a highly productive learning ecosystem that rapidly builds learning value organization-wide. Learn more at www.expertus.com.
About Brandon Hall Group, Inc.
With more than 10,000 clients globally and 20 years of delivering world class research and advisory services, Brandon Hall Group is the most well-known and established research organization in the performance improvement industry. It conducts research that drives performance, and provides strategic insights for executives and practitioners responsible for growth and business results. Brandon Hall Group has an extensive repository of thought leadership, research and expertise in Learning and Development, Talent Management, Leadership Development, Talent Acquisition and Human Resources. Members have access to research that helps them make the right decisions about people, processes, and systems, combined with research-powered advisory services customized to their needs. 
For more information regarding online CAMS training from Empathos, call us at 920-457-4033